DENTAL IMPLANTS
---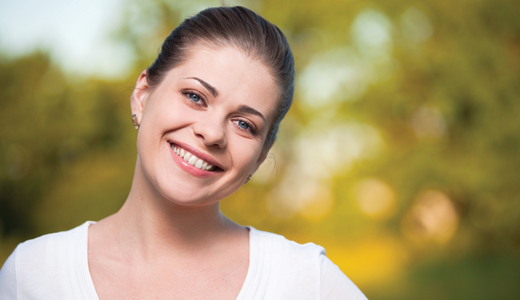 Dental implants are one of the most effective and realistic forms of prosthetic teeth available. Dental implants also closely resemble natural teeth. In fact, they look so much like your natural teeth that no one can tell the difference. If you've lost a tooth or have a gap in your teeth where a tooth should be, then dental implants can help you restore your smile.
As your dentist in La Grange, KY, the professionals at Byrne Family Dentistry can help you determine whether you're a good candidate for an implant, and if so, we can coach you on whether implants are the right solution for your missing tooth.
What Is An Implant?
An implant is a type of prosthetic tooth with a piece that's inserted into the gums. The visible part of the implant is capped with a dental crown that looks just like a real tooth.
The crown is maintained just like a real tooth, which means that many people have a hard time telling the difference between an implant and a natural tooth.
Your dentist will choose the color for the crown based on your other teeth, which means that the crown should match your other teeth perfectly. Implants are a permanent part of your mouth, and unless the implant fails, it should never be removed. This makes implants different from prosthetics like dentures.
Are You a Good Candidate for Implants?
Not everyone is a good candidate for implants. After an assessment, your dentist can tell you whether you'd be a good candidate for implants. Some factors that your dentist will consider when trying to decide whether you would be right for an implant:
Oral health and hygiene. If your oral hygiene habits and oral health are overall poor, then your implants may fail prematurely, or may not fuse to the jaw properly. Your dentist will assess your overall oral health before making a decision.
Non-smoker. People who smoke sometimes have a longer recovery time and also are at higher risk for infection. This can make installing an implant riskier.
Benefits of Implants
There are many benefits of installing implants over other forms of prosthetic teeth, like dentures.
Functionality. Dental implants don't slide around like dentures. They're a permanently installed part of your mouth.
Natural appearance. Implants look so much like real teeth that very few people can tell the difference.
Easy maintenance. Because implants are fused to the jaw just like real teeth, they're maintained in virtually the same way. Your dentist will give you tips.
Need Implants? Contact Byrne Family Dentistry
Byrne Family Dentistry offers safe dental implant services in La Grange, KY. If you believe that you're a good candidate for dental implants, call today to make an appointment. We'll provide a consultation to help you determine whether this type of service is right for you.