Sedation Dentistry
---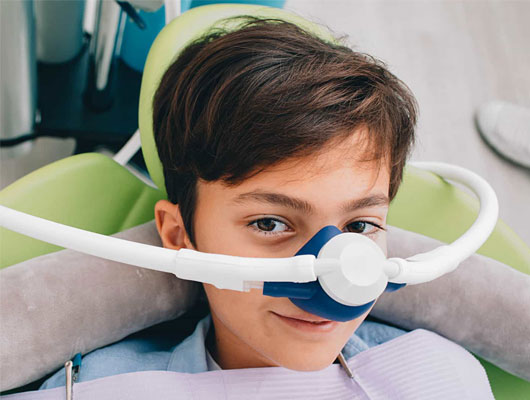 People who experience dental anxiety sometimes find it hard to go to the dentist. Depending on how severe the anxiety is, some patients find themselves unable to make an appointment. These patients may go for years between appointments simply out of fear. For these patients, sedation dentistry can help. As your dentist in La Grange, KY, the professionals at Byrne Family Dentistry provide sedation dentistry to help make your trip to the dentist a less anxious and more positive experience.
What Is Nitrous Oxide?
Nitrous oxide is the mildest form of sedation dentistry. It's considered very safe and also convenient for patients who simply want a more relaxing dental experience without a lot of trouble.
Nitrous oxide doesn't stay in the system after the dentist or hygienist turns off the supply, which means the patient can drive themselves home or go back to work when they're done.
Before you get nitrous oxide treatment at Byrne Family Dentistry, your dentist will ask you some questions to ensure that nitrous oxide is the right form of sedation dentistry for you. This type of sedation dentistry is most suitable for patients who have mild fears of the dentist but are not crippled by their fear, or afraid to have memories of their trip to the dentist when they're done.
What Is Oral Sedation Dentistry?
Oral conscious sedation is a type of medication that requires a prescription. The medication allows patients to relax throughout the procedure. Patients taking this medication have a dreamy feeling and often forget much or all of their appointment when they're done.
If you use this type of sedation dentistry, you will need a ride home from the dentist, and may need someone there with you during the appointment, in case your dentist gives you information that you will need clear memories of later.
What Is IV Sedation?
IV sedation dentistry is the best type of dentistry for patients who experience crippling dental anxiety. IV sedation dentistry gives patients a feeling of deep relaxation throughout the dental appointment.
Which Sedation Dentistry Is Best For Me?
Finding the right type of sedation dentistry in La Grange KY can be tricky. Work with your dentist at Byrne Family Dentistry to determine which type of sedation dentistry will make your fears manageable.
Do You Experience Dental Anxiety? Contact Byrne Family Dentistry
Dental anxiety shouldn't stop anyone from coming to the dentist. In fact, if you can stay on top of your dental appointments, you should find that going to the dentist is easier overall.
Sedation dentistry makes it much easier for patients to maintain a schedule of healthy preventative dental care. To find out more about our sedation dentistry services, or to make an appointment for preventative dentistry with sedation dentistry services, call today.