PEDIATRIC DENTISTRY
---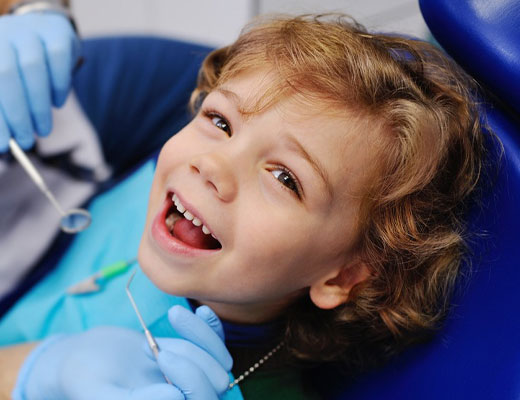 Children have special needs when it comes to their dental care. Kids are more susceptible to problems like cavities, and less susceptible to problems that lead to root canals. In addition, children can be uncomfortable when they're faced with a visit to the dentist, and they need special treatment in order to feel comfortable.
Taking your child to a dentist in La Grange, KY can help address these issues if your dentist offers pediatric dentistry services. Your pediatric dentist can help ensure that your child gets the care they need to maintain healthy teeth. At Byrne Family Dentistry, we offer pediatric care for kids in the La Grange area.
Why Does Your Child Need Pediatric Dentistry?
Children have special dentistry needs that go beyond the type of services that adults need. Children are smaller and sometimes require their own special dental tools. When you bring your child to a dentist that offers pediatric dentistry services, you can rest assured that the dentist you've chosen for your child will know how to accommodate your child and their specific needs.
Pediatric Dentistry Services in La Grange, KY
At Byrne Family Dentistry, we offer a range of pediatric dentistry services.
TEETH CLEANING
Children often struggle to keep their teeth clean, especially if they're doing their own tooth brushing. Taking your child in for regular tooth cleaning sessions with the dentist can help control plaque, bacteria buildup and tartar on the teeth. This can help control cavities.
ORAL HYGIENE COACHING
Parents often need information about how they can best take care of their child's teeth. In addition, pediatric patients often benefit from being showed the correct way to brush their teeth. At Byrne Family Dentistry, we can provide coaching to our pediatric patients and their parents to help with these issues.
FLUORIDE TREATMENTS
Fluoride helps stop tooth decay, strengthens tooth enamel and fortifies teeth against problems like cavities. We provide regular, safe fluoride treatments for pediatric patients.
EXAMINATIONS
We'll examine your child's teeth to look for problems like cavities, crooked teeth, plaque buildup and more. Getting regular examinations can help your child maintain healthy, white teeth throughout their childhood.
INJURIES
Kids are particularly vulnerable to oral injuries like loss of permanent teeth, cracks and chips in the tooth enamel and more. If your child suffers an oral injury, the professionals at Byrne Family Dentistry can help.
What to Expect During a Dental Cleaning
You may accompany your child to their dental cleaning. If your child is very young, their dental cleaning may be fast. As your child ages, they may require more in-depth cleanings that look more like adult cleanings. Many children get fluoride treatments during their dental cleanings and examinations.
Contact Your Pediatric Dentist at Byrne Family Dentistry
Many children need to see the dentist as often as adults. To ensure your child is getting proper oral hygiene help, call Byrne Family Dentistry today to make an appointment. We'll help your child maintain healthy teeth and gums.